Press Releases:
Scott Machine Development Corporation's recently developed New Products and Press Releases. We are committed to providing our customers with the best products in the industry, and continued new product development.
What's New?
We have recently completed a brand new web site for computerized engraving machines. We think you will find it to be very helpful and informative. The site is at http://www.scottautograver.com
Also, we are very pleased to announce our company's 50th anniversary.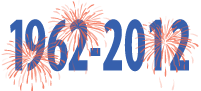 President/Owner Greg Waldron will lead the one-year celebration of Scott Machine's 50th anniversary, from summer this year through summer of 2012.

Lightweight LusterLite™ Becomes Newest e-Badge® Sensation!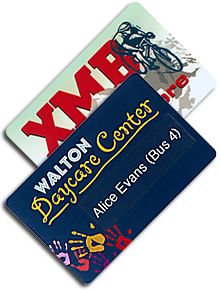 New LusterLite™ badges offer both economy and easy changeability.
The e-Badge® division of Scott Machine Development Corporation, in Walton, New York, has just introduced its new LusterLite badge, a slim and lightweight name tag offering vivid colors, sharp details and easy changeability. This economical credit card-sized badge, made of durable plastic, brightens work aprons, T-shirts and other apparel worn by counter service and sales personnel.
Customers can order custom-designed LusterLite badges with imprinted names, or use the a film-strip printer to add names instantly in situations where personnel change frequently.
The eBadge division offers a variety of other bright, professional badges, including Scott® Engraved badges, Metal namebars (name tags), ColorDome™ badges, S.N.A.P.® paper-insert badges and Custom Shape badges in a wide variety of distinctive materials and sizes. Customers can re-order thousands or one at a time, using their own free, custom Web Page to speed the process. For more information about e-Badge products, call 800-514-0001 to speak with a friendly e-Badge representative, or click here to visit our Web Site http://www.e-badge.com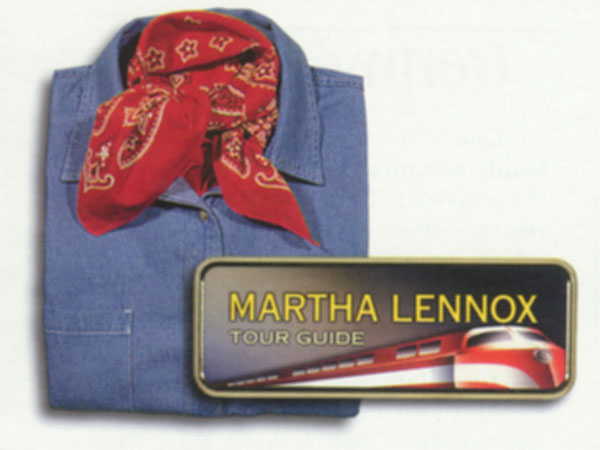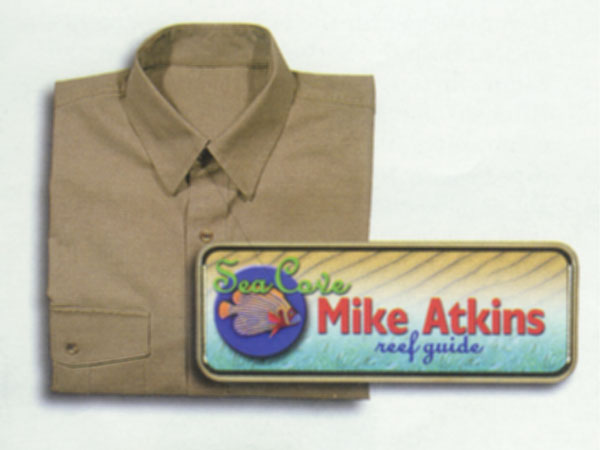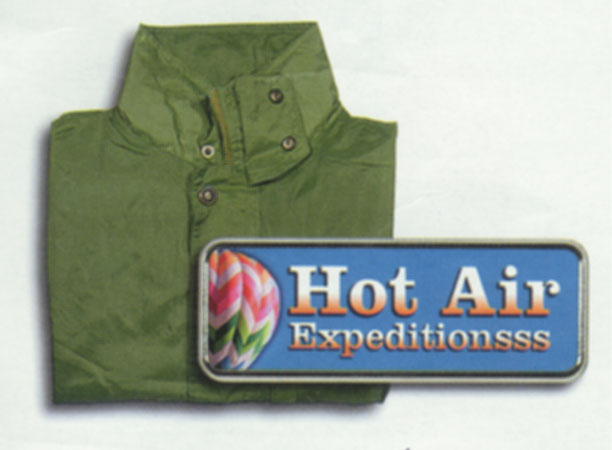 Making friends out of customers is easy when the first thing they see is a bright and cheerful e-Badge® ColorDome™ badge. No other nametag so vividly displays virtually any design or logo . . . in any color . . . any style! Join the evolution and you'll be amazed by the fine detail, the subtle gradients and the high-definition sharpness that introduces your company so clearly and cordially. And because each badge offers the choice of a pin, a clip or a fabric-friendly magnet, it's no wonder everyone's becoming so attached!
Order a unique e-Badge product and you get more than a brilliant badge. You also enjoy convenient delivery, whether you need one or one-thousand. Just e-mail your logo or artwork, or send us your brochure with logo by mail and we'll custom design to your requirements. We drop ship to multiple locations . . . all with central billing! So view our helpful website at http://www.e-badge.com , then make a first impression that lasts forever with e-Badge corporate badges. It's the newest name for business hospitality.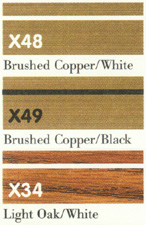 Expanded Line Of Engraving Materials
Scott Machine Development Corporation, Walton, New York, has expanded its Engraving Stock Line to 150 materials. Copper Metallic engraving stock with black or white lettering and Light Oak with white lettering have been added to the line. The Scott-Ply™ metallic stocks have also been improved to provide extra outdoor weatherability and scuff resistance for a longer-lasting finish.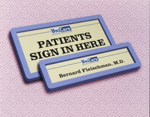 New Frames
Scott Machine Development Corporation, Walton, New York, has introduced two new Sign-Mate® Frames. Measuring 2" x 10" and 4" x 10", the frames work for a variety of signs, including desk name bars, door signs, directories and more. The new frame sizes are available in a variety of Scott-Spectrum® colors.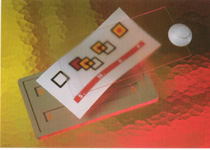 Making attractive, effective signs is a SNAP
Creating high-image professional signage is a snap with the SNAP (Simply Never A Problem®) system from Scott Machine Development Corporation. Simply design your sign on your PC using SNAPsignDsign® software, free with any $75. purchase, or use any other graphics or page layout package. Print the sign on any laser or ink-jet printer, cut it to fit the desired SNAP frame, snap the frame together, and the sign is complete. The rugged plastic sign frames feature a non-glare surface that also doesn't show fingerprints. Designed to be tamper-resistant, they open easily with a special suction cup. SNAP frames come in 36 different colors and 11 different sizes, up to 8 1/2" x 11" inches. Frame configurations include wall and pedestal signs, slant and T-stands, tents, and even name badges. Any heavyweight paper is suitable for SNAP signs; however, for ease of use, perforated paper is available to fit the various sign dimensions.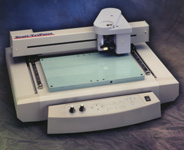 Buildings & Grounds - Instant Signage From A Desktop Machine
Signmaking machine changes modes with a push of a button. Engrave precision signage impressions. The device is compatible with Corel, AutoCad, and other similar packages. The 12" x 8" work area makes it a good desktop tool. The Scott-AutoGraver® available from Scott Machine Development Corporation.

Sign Holders ( #7 Of Top 50 Products) - Signs Of The Times Magazine.
Scott Machine Development now offers S.N.A.P.® Signs, a sign-holder system designed so that anyone with a computer and color printer can make signs. These paper-insert signs can be used for displaying names, short messages, graphics and pictures, custom logos and symbols. According to the manufacturer, these signs can be made with any word-processing program and then printed on a laser or ink-jet printer. The package comes with plastic frames in 11 sizes and 5 standard sign-holder colors. Pre-perforated paper is available for all sign holder sizes, for your convenience.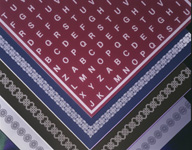 Sample engraving materials showing fine line engraving.
New Scott-Spectrum Colors
Scott Machine Development Corporation, Walton, NY, has added 12 colors to its Scott-Spectrum® engraving materials. There are now 45 standard colors, and a coloring system makes it possible to order any custom color. Clear Scott-Spectrum, for reverse subsurface engraving, is manufactured with a polished or matte surface. The fade-resistant and weatherable Scott-Spectrum materials are available in 21" x 25" sheets and 1/16" or 1/8" thicknesses. For more information, call (607) 865-6511.